Follow our latest news
Keep up to date. For important and unimportant stuff click here. Follow our news on Twitter
Attosecond Magnetism
Light wave dynamic control of spins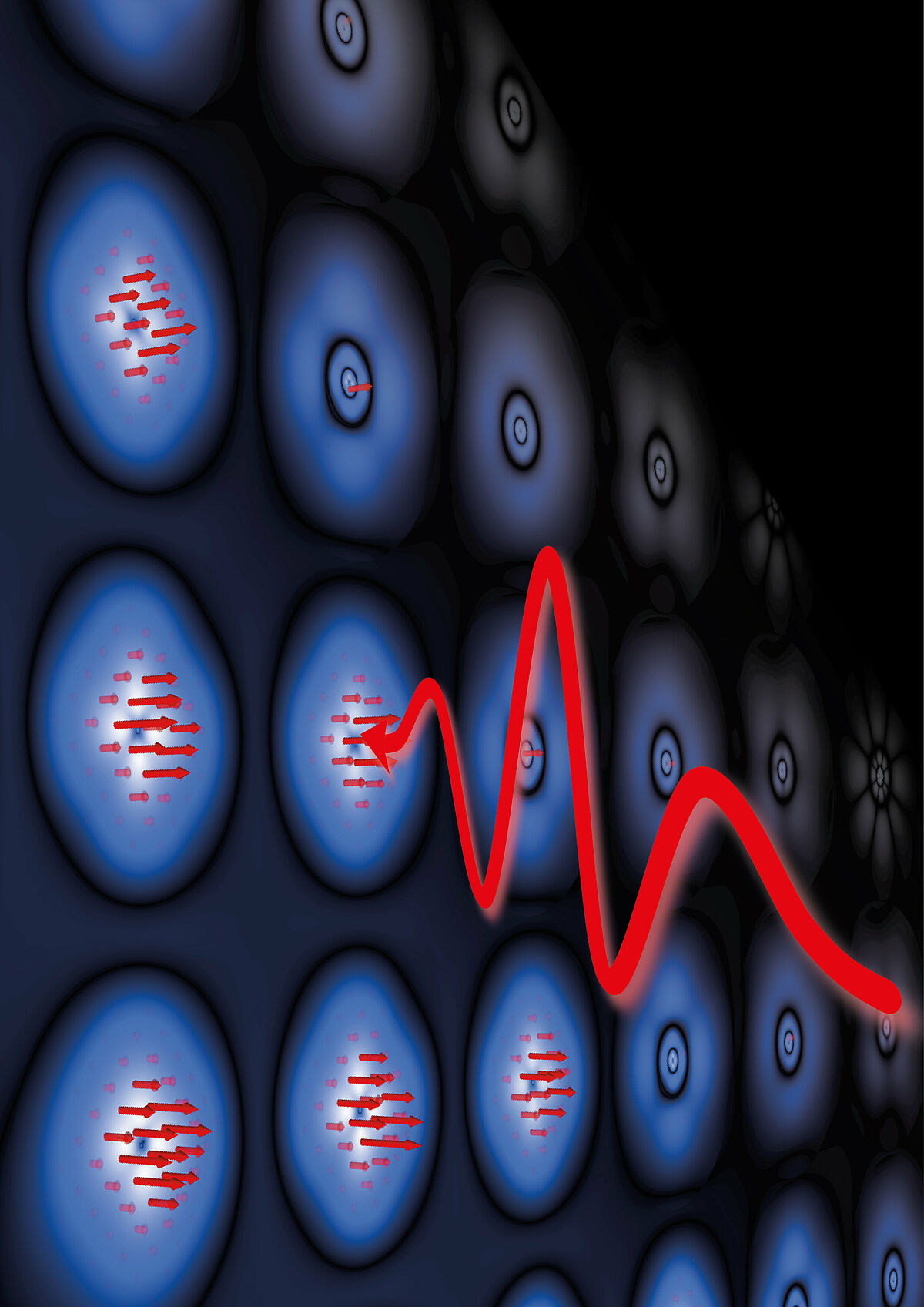 The magnetic moment of matter has only been able to be influenced up to now by a light and magnetism-linked process and roundabout way by means of magnetic fields, which is why magnetic switching takes that much longer and at least several hundred femtoseconds. A consortium of researchers from the Max Planck Institutes for Quantum Optics and for Microstructure Physics, the Max Born Institute, the University of Greifswald and Graz University of Technology have only now been able to manipulate the magnetic properties of a ferromagnetic material on a time scale of electrical field oscillations of visible light – and thus in sync with the electrical properties – by means of a few cycle pulse. This influence was able to be accelerated by a factor of 200 and was measured and represented using time-resolved attosecond spectroscopy. In attosecond spectroscopy, magnetic materials are bombarded with ultra-short laser pulses and electronically influenced. "The light pulses set off an intrinsic and usually delaying process in the material. The electronic excitation is translated into a change in magnetic properties," explains Martin Schultze professor at the Institute of Experimental Physics at TU Graz. Due to the combination of a ferromagnet with a non-magnetic metal, the magnetic reaction in the described experiment, however, is brought about as fast as the electronic one. "By means of the special constellation, we were optically able to bring about a spatial redistribution of the charge carrier, which resulted in a directly linked change in the magnetic properties," says Markus Münzenberg. Together with his team in Greifswald, he developed and produced the special material systems. As initial step towards coherent magnetism, the researchers show in their measurements that the observed process runs coherently and can be controlled by the interface: this means the quantum mechanical wave nature of the moving charge carriers is preserved. Sangeeta Sharma, researcher at the Max Born Institute in Berlin who predicted the underlying process using time resolved density functional theory, is impressed: "We are expecting a significant development boost from this for all applications in which magnetism and electron spin play a role."
Publication: "Light-wave dynamic control of magnetism", F. Siegrist, et al. Nature 570 (2019), Nature Readcube Blog Phys.org
Press release more...
Juli 2018
Magnetische Wirbel treffen auf Topologie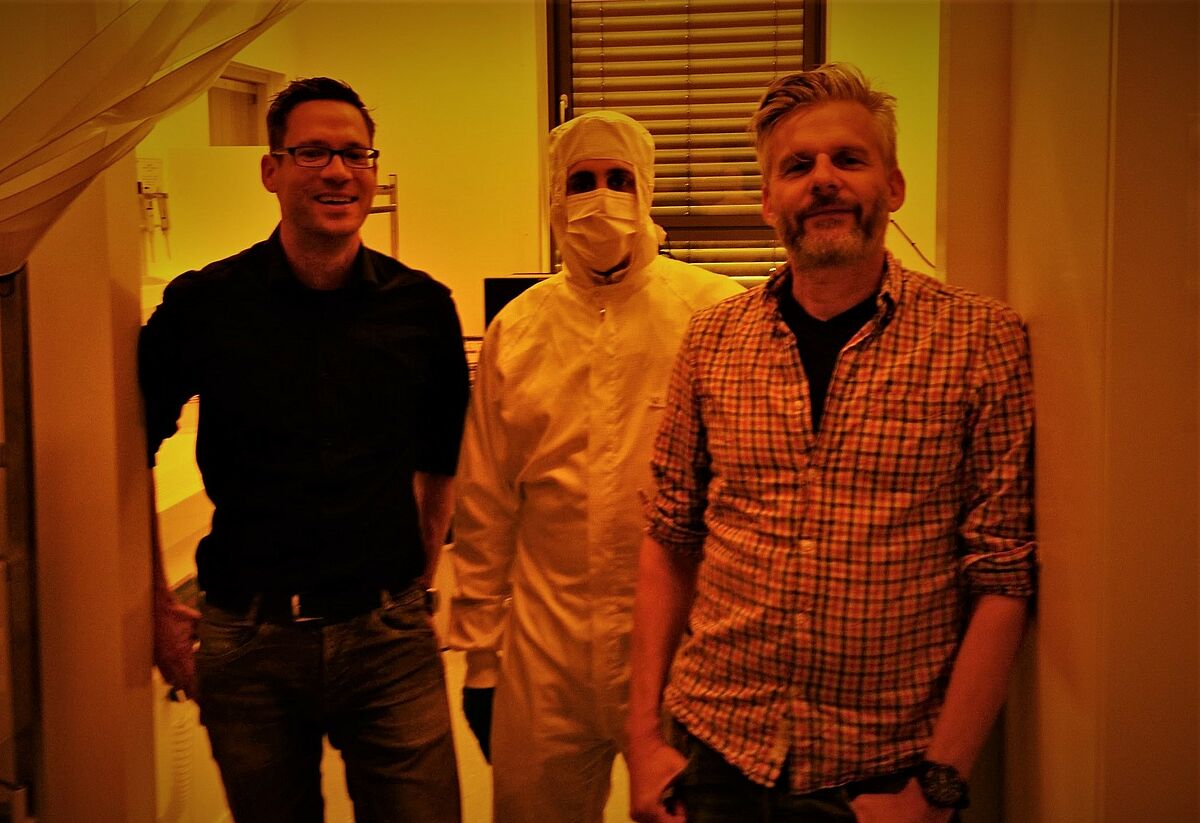 Die Erzeugung und Manipulation von magnetischen Skyrmionen in Nanostrukturen ist Ziel eines neuen Schwerpunktprogramms "Skyrmionics ─ Topological Spin Phenomena in Real-Space for Applications" (SPP 2137) der Deutschen Forschungsgemeinschaft (DFG). Die Physiker Prof. Dr. Markus Münzenberg und Dr. Christian Denker und der Mathematiker Prof. Dr. Konrad Waldorf von der Universität Greifswald sowie Prof. Dr. Jeffrey McCord von der Universität Kiel sind mit dabei. Ihr Projekt "Erzeugung, Manipulation und Wechselwirkung von magnetischen Skyrmionen" wird in den nächsten drei Jahren mit einer halben Million Euro gefördert. Fernziel dieses Forschungsprojekts ist dieEntwicklung von Anwendungen zum Beispiel in der Informationstechnologie.
In dem Projekt "Erzeugung, Manipulation und Wechselwirkung von magnetischen Skyrmionen" sollen Skyrmionen in einem sogenannten Schieberegister in einer zweidimensionalen Anordnung und unter definierten Randbedingungen untersucht werden. Das Schieberegister wird lithografisch erzeugt: Mit Kontakten zum Verschieben der Skyrmionen und zum Auslesen werden nanostrukturierte magnetische Tunnelelemente in den Skyrmionen-Film integriert. In dem hier geplanten Schieberegister werden nicht die Bildinformationen, sondern die Skyrmionen verschoben, um ihre komplexen Wechselwirkungen zu untersuchen. Die Ergebnisse lassen sich anschließend mit den Vorhersagen der Topologie vergleichen. Ziel ist es, die magnetischen Solitonen-Wirbel besser zu verstehen, um langfristig in der Informationstechnologie neuartige Datenspeicher oder komplexe, selbstlernende Computer zu entwickeln.
Das Gebiet der Topologie wurde Mitte des 18. Jahrhunderts von dem Mathematiker Leonhard Euler entwickelt. Ein weiterer wichtiger Mathematiker auf dem Gebiet der Topologie war Felix Hausdorff, der auch an der Universität Greifswald lehrte.
Link zur vollständigen Pressemitteilung Uni Greifswald: https://www.uni-greifswald.de/universitaet/information/aktuelles/detail/n/magnetische-wirbel-treffen-auf-topologie-forschungsprojekt-gestartet/
November 2017
Der Natur auf die Finger schauen - Einzigartiges Hochleistungs-Elektronenmikroskop für die Forscher im Land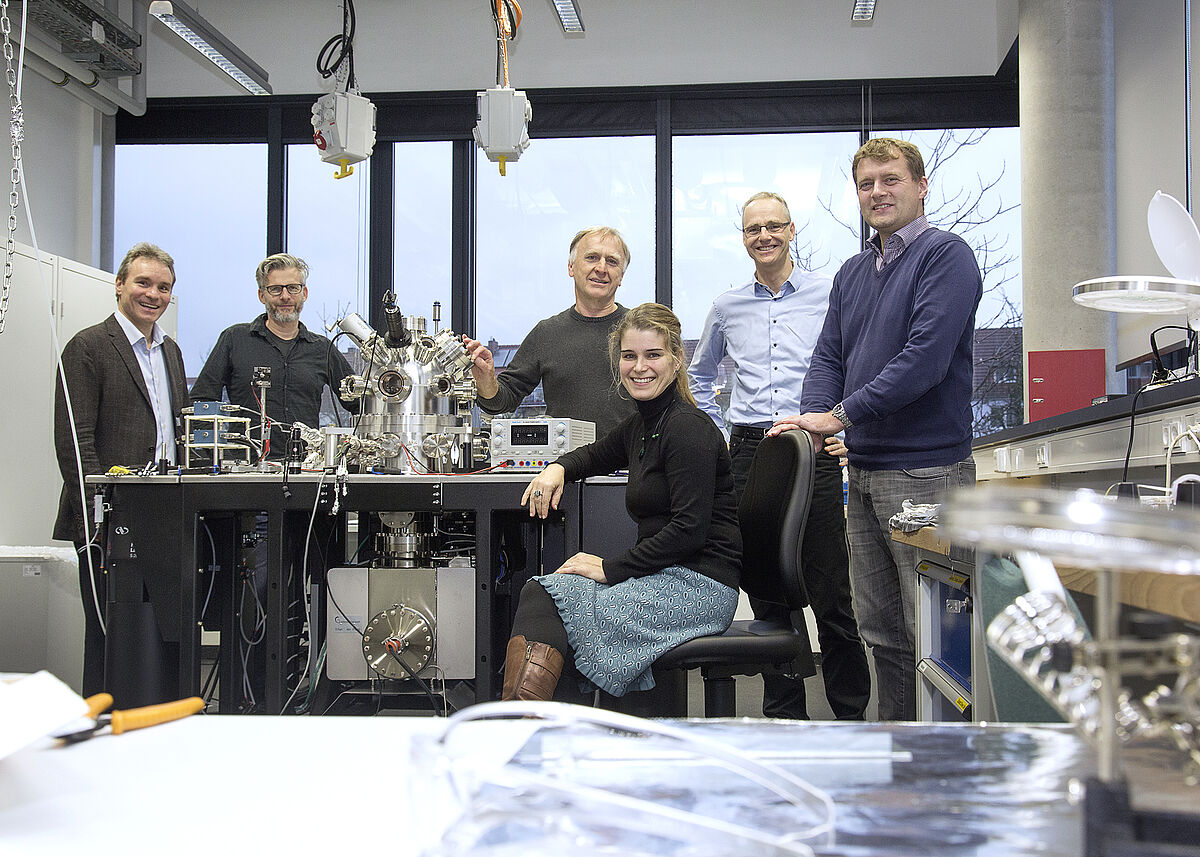 Völlig neue Einblicke in die Welt der Atome und Moleküle gewinnen die Wissenschaftler des Departments Leben, Licht und Materie der Universität Rostock. Die Grundlage bildet eine Förderung in Höhe von 3,6 Mio Euro durch den Bund und das Land Mecklenburg-Vorpommern für ein neuartiges Elektronenmikroskop. Damit wird es erstmals möglich, Untersuchungsobjekte im flüssigen oder gasförmigen Zustand auf atomarer Ebene live zu verfolgen. So können kleinste Veränderungen in lebenden biologischen Zellen im Kontakt mit Nanoteilchen hochaufgelöst beobachtet werden. Mit dem neuen Hochleistungs-Elektronenmikroskop ist sogar die Abbildung einzelner Atome möglich, damit kann beispielsweise die Wirkung von Katalysatoren auf chemische Reaktionen direkt verfolgt werden, genauso wie Vorgänge der Strukturbildung von Leichtbauwerkstoffen.

Greifswalder Konsortiumsmitglieder des Instituts für Physik sind daran beteiligt, um unter ultrakurzzeit Laseranregung im Elektronenmikroskop, spintronische Bauelemente auf atomarer Skala besser zu verstehen.

Pressemitteilung Uni Rostock: https://www.uni-rostock.de/universitaet/aktuelles/pressemeldungen/detailansicht/n/der-natur-auf-die-finger-schauen/


November 2017
Paper out: Large magneto-Seebeck effect in magnetic tunnel junctions with half-metallic Heusler electrodes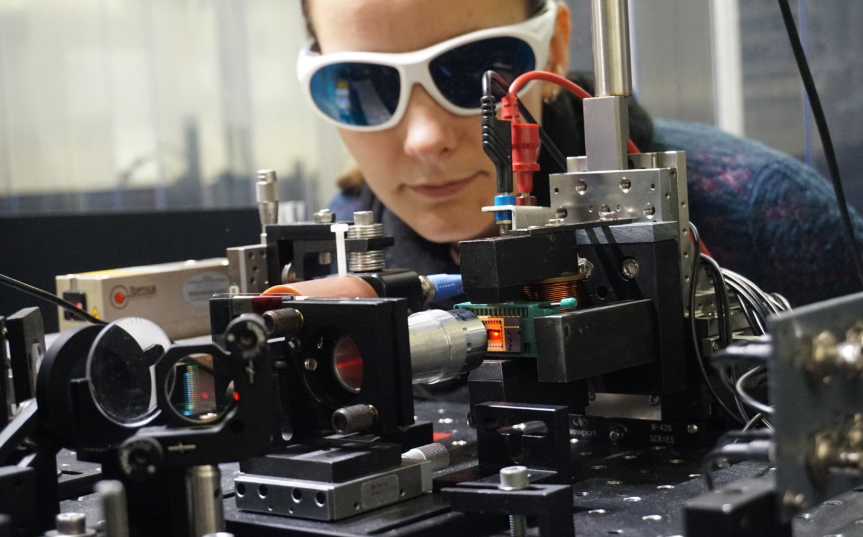 In a collaboration between Universities of Bielefeld, Greifswald, Gießen and IFW Dresden, we found another class of materials, that may bring the spincaloritronics of magnetic tunnel junctions closer into praxis. In the study, headed by Alexander Böhnke and Ulrike Martens, in a thight collaboration between Bielefeld and Greifswald, it was demonstrated that the voltages can be tenfold increased towards a millivolt in such tiny junctions, when they in the center of the laser focus. Key are magnetic tunnel junctions with a Heusler based electrode. Heusler materials have a specific band structure that boosts the effect an makes them interesting for spintronics. Magnetism in this class of materials has been measured first in Greifswald (1903 by Richarz). This project was part of the DFG - SPP 1538: "Spin Caloric Transport (SpinCaT)" that endend this year.
Reference:
Large magneto-Seebeck effect in magnetic tunnel junctions with half-metallic Heusler electrodes
A. Boehnke, U. Martens, C. Sterwerf, A. Niesen, T. Huebner, M. von der Ehe, M. Meinert, T. Kuschel, A. Thomas, C. Heiliger, M. Münzenberg, G. Reiss, Nature Comm. 8, 1626 (2017).
Read more "News Uni Greifswald" more...
June 2017
Paper out: Magnetisation switching of FePt nanoparticle recording medium by femtosecond laser pulses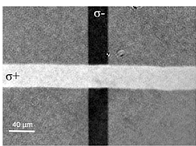 In a collaboration between Universities of Uppsala, Konstanz, Kiel, Madrid and Western Digital, we lifted the mystery of all-optical manipulation of the magnetization of FePt recording media. Today, FePt nanograins are developed, because of their large magnetic anisotropy, resulting in a high thermal stability even for a few nanometer sized grains, arising in their high coercive field of more than 4 Tesla. They are currently developed further for heat assisted magnetic recording. Our collaboration showed that different steps are important, from ab-initio calculations of the light induced magnetization up to the correct thermal description of the spin ensemble. That shows again the complexity of ultrafast magnetization dynamics, and that there is no unique process for describing ultrafast magnetism. Our calculations for each grain entered into a simple rate model that can explain the switching statistics. To date multiple laser pulses are needed to get a decent writing success. With our single shot experiments compared to the calculations, we can make now predictions for the boundary condition for single-shot laser writing of magnetic bits in the future.
Reference:
Magnetisation switching of FePt nanoparticle recording medium by femtosecond laser pulses
R. John, M. Berritta, D. Hinzke, C. Müller, T. Santos, H. Ulrichs, P. Nieves, J. Walowski, R. Mondal, O. Chubykalo-Fesenko, J. McCord, P. M. Oppeneer, U. Nowak, M. Münzenberg, Sci. Rep. 7, 4114 (2017).

Online publication date: 23-Jun-2017.
March, 2017
Youth and Childrens University Eberswalde and on the Cover of Physical Review Letters
Was ist Nano? Vortrag an der "Jugend – und Kinder Uni" Eberswalde
Was ist Nano? Prof. Markus Münzenberg hält einen Vortrag zum Thema "Was ist Nano?". Der Vortrag ist im Rahmen der "Jugend – und Kinder Uni" vom 14. bis 17. März 2017 an der HNE Eberswalde, organisiert von der Bürgerstiftung Barnim Uckermark. Der Vortrag soll Einblicke liefern für Fünft- bis Sechstklässler in die Nanometer Längenskala und was in diesem Nanokosmos für Effekte auftreten. Ein Nanometer sind ist ein 1/ 1 000 000 000tel Meter. In der Vorlesung werden wir diese Atome in einem Experiment 'sehen'.
Webseite: http://www.hnee.de/de/Hochschule/Offene-Hochschule/Kinder-und-JugendUni-Barnim-Uckermark/Kinder-und-JugendUni-Barnim-Uckermark-K3096.htm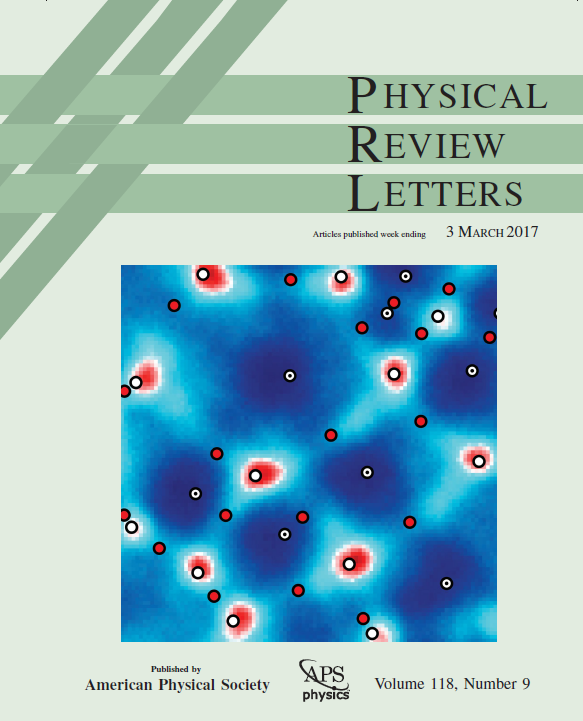 On the cover of Physical Review Letters
Our work on femtosecond laser generated magnetic vortex structures made it on the cover of Physical Review Letters in the first week of March. We show that strong quenching allows to stabilizes a metastable vortex-antivortex state in thin magnetic films. They are created pairwise. This experiment is part of a collaboration with the University of Göttingen. They were initiated in collaboration with Prof. Claus Ropers und Dr. Sascha Schäfer at our time in Göttingen, establishing an Ultrafast Transmission Electron Microscope (UTEM) at the Göttingen Campus.
Publication: Link to the cover and article http://journals.aps.org/prl/issues/118/9
November, 2016
New paper out in Nature Communications on ultrafast photocurrents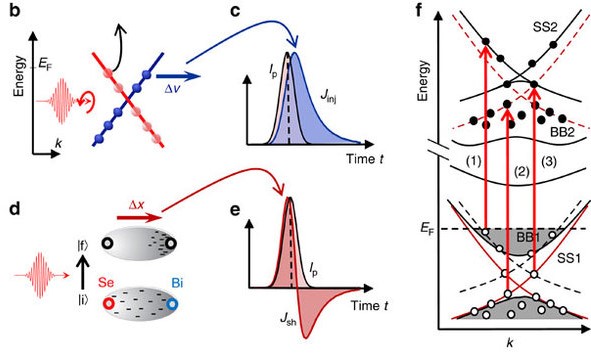 Transient photocurrents can be driven by light. Their nature is still under discussion. To better understand the underlying mechanisms, the current gives insight into the microscopic transport processes. We identify an ultrafast charge transfer along the Se–Bi bonds and also a contribution of a photon-helicity-dependent photocurrent. However, this current is be orders of magnitude smaller than expected from generation scenarios based on asymmetric depopulation of the Dirac cone.
See full research paper
Ultrafast photocurrents at the surface of the three-dimensional topological insulator Bi2Se3
L. Braun, G. Mussler, A. Hruban, M. Konczykowski, M. Wolf, T. Schumann, M. Münzenberg, L. Perfetti, T. Kampfrath, Nature Comm. 7, 13259 (2016).
July, 2016
New papers on ultrafast spin dynamics out as arxiv preprints
All-optical writing of FePt nanograins: in an international effort, together with Universities of Konstanz, Uppsala, Kiel, CISC Madrid, Göttingen, ICCRAM and Western Digital we develope an multiscale understanding of helicity dependent switchingmore...
R. John, M. Berritta, D. Hinzke, C. Müller, T. Santos, H. Ulrichs, P. Nieves, J. Walowski, R. Mondal, O. Chubykalo-Fesenko, J. McCord, P. M. Oppeneer, U. Nowak, and M. Münzenberg, Magnetization switching of FePt nanoparticle recording medium by femtosecond laser pulses, arXiv:1606.08723.
20 years of ultrafast dynamics, ready for applications. What do we know and where do we stand? A perspective of the field more ...
J. Walowski and M. Münzenberg, Perspective: Ultrafast magnetism and THz spintronics, arXiv:1606.08725.

June, 2016
Symposium "Spins, Waves and Interactions" –
Spins and spin waves for future information technologies, Networking of researchers in Greifswald. The topic "Spins, Waves and Interactions" is the headline for a meeting 1.-2. September in Greifswald, to discuss new developments and trends in spintronics.
This year, the workshop is generously funded by the Alfried Krupp Kolleg foundation, Greifswald.
On two days from Tuesday to Friday at the Alfried Krupp Wissenschaftskolleg renowed speakers will give their presentations. This time as international speaker from Tohoku University, Sendai, Japan, Joseph Barker will talk about THz dynamics of spin waves.
The workshop is hosted for a third time in the maritime atmosphere of Greifswald, city of the Hanse and university since 1456, place for networking and a look into technological path for the future.
We welcome interested young researchers in the field, please see the conference announcement and registration form.
For further information see the conference website with program, available soon, and detailed information more ...
We are seeing forward to welcome you here!
Andy Thomas and Markus Münzenberg

May, 2016
New broadband THz emitter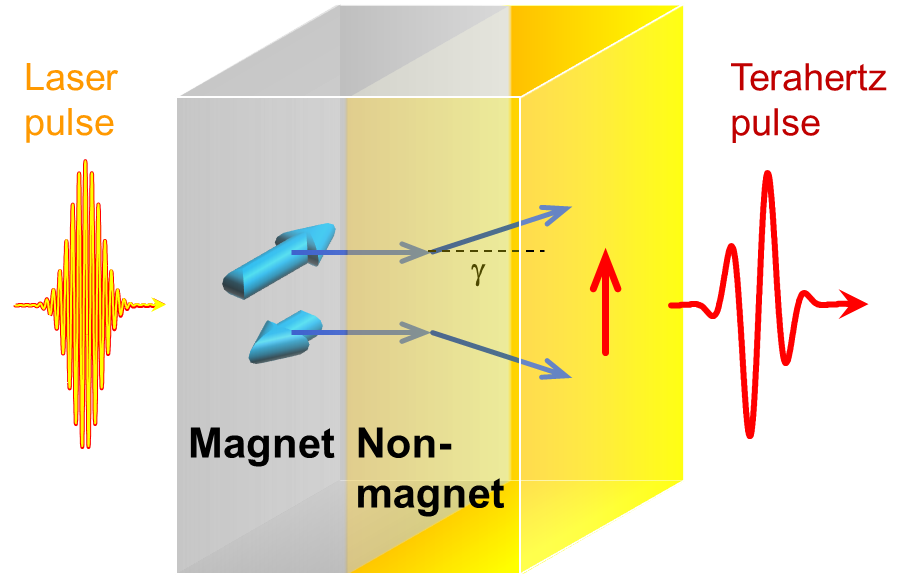 Terahertz waves offer numerous applications in ultrafast science. However, thegeneration of such radiation by a low-cost source has remained challenging. Physicists from an international collaboration including theFritz-Haber Institute (Berlin), the Johannes-Gutenberg University (Mainz), the Ernst-Moritz-Arndt University (Greifswald), Forschungszentrum Jülich in Germany and research institutes in France, Sweden and the United States have now realized a new concept for the generation of terahertz waves using spintronic materials.
In contrast to previous designs, their emitters consist of thin metal films and take advantage of the spin rather than only the charge of the electron. Following this approach, they developed broadband emitters fully covering the 1-to-30-THz range, while at the same time being simple designed and compact. Compact, because it is based on spin-orbit effects on femtosecond time scales converting the spin current into a THz emitting charge current on few nanometer lenght scales more...
Read the press release (German):23.05.2016 Neuartige Terahertz-Quelle öffnet Weg zu breiteren Anwendungsmöglichkeitenmore ...
Read original article:
Efficient metallic spintronic emitters of ultrabroadband terahertz radiation, T. Seifert et al., Nature Photonics, DOI: 10.1038/nphoton.2016.91
more …

Kinder- und Jugend-Universität 2016
Ein Besuch in unseren Laboren für Kinder am 19.05.2016 und 20.05.2016: "Schwingungen der Melone" Was sind Schwingungen? Ein Einlick in die Bestandteile die unser Leben bestimmen - die Moleküle - und liefert einen Einblick in den Aufbau der Materie. "3D Laserlithografie - Nanometer Skulpturen in der Forschung" Mit der Laserlithografie lassen sich dreidimensional Strukturen für die Forschung herstellen. Es wir ein Einblick gegeben in die Forschung in einem Reinraum, Herstellung von Computerchips und dem Leben im Mikrokosmos.
Das volle Programm der Kinder- und Jugenduni more …